Driveway Design: Prestigious Porte-cochere
March 29, 2023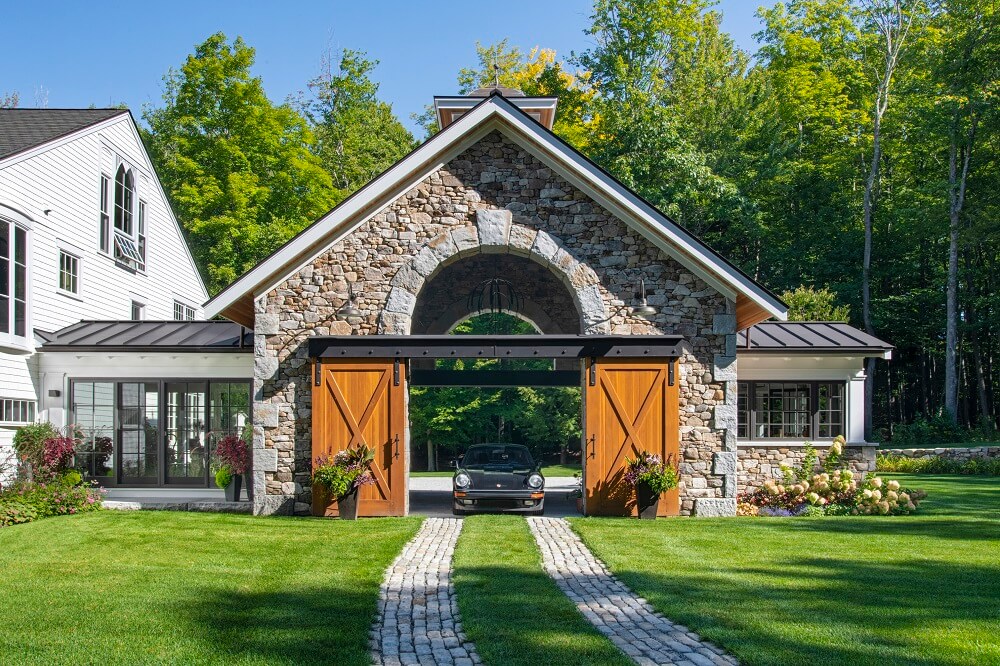 Typical for grand French architecture of the 18th and 19th centuries, a porte-cochere is an entryway on the side or front of a building that provides shelter for people going in or out of carriages. This concept appears throughout history worldwide, mainly in elaborate private mansions, public institutions or royal establishments. 
Today, this architectural detail is commonly found in expansive, large private homes with a particular personality and presence. However, its practicality makes it a common choice for hospitals, churches, or railway stations. If you want your home to make a jaw-dropping impression, consider a porte-cochere when you build or renovate it. 
What is a Porte-cochere?
Porte-cochere is a French term that means coach gateway. As mentioned, they began appearing in France in mansions and public buildings. The visitors, guests or residents of the building would step out of their carriages after they were stationed temporarily beneath the shelter of the porte-cochere. It would protect the valued guests from bad weather or too much heat. 
The Features of a Porte-cochere Drive
Here are some of the features of porte-cochere:
Single-story canopy
The canopy must be high enough to accommodate the comfortable entry of vehicles underneath. It provides shelter from rain, sun, or wind as you and your guests enter or exit the house.
Large width and connection to driveway or garage
The porte-cochere directly connects to a garage or driveway, as it is not intended to be a parking area but a transitioning one.
Access to a main or secondary entrance
At the same time, the porte-cochere entry must connect to one of the main entries to the building. 
Guard stones
Guard stones are typically present at the base of the porte-cochere pillars to protect the structure from damage from accidents.
What Style of Home Best Suits Porte-cochere Driveways?
You will need a large enough land space to include a porte-cochere in your plan. While it best fits buildings with more classic architecture, you can also adapt the concept to ultra-modern concepts. Some styles that work with this idea are Victorian, Spanish, or Tuscan because they typically spread over a larger area and include vast outdoor spaces. The porte-cochere can match your patio, terrace, driveway and the rest of the landscaping.
Costly Cochère?
As elegant as it sounds, a porte-cochere is a simple structure. It involves building an attached canopy wide enough to fit vehicles underneath. A porte-cochere would cost around $7,000 to $10,000 when added to an existing house.
Exterior Home Finery with Fulton
If the idea of porte-cochere delights you, consider building it from local materials. Sturdy, affordable materials include paver stones, bricks, concrete blocks, and concrete sleepers. If you're in search of high-quality pavers and other building materials, look no further. Fulton Brickyard is Melbourne's leading supplier of bricks and construction supplies. Create a cohesive look using the same kind of blocks for your patio, veranda, terrace, or porte-cochere. Contact us for more information and a free consultation on all your building supply needs.
Image Source: Marcus Gleysteen Architects